Welcome to Stone Bridge Farm!
Owned by Denise and Bill Curran, Stone Bridge Farm is a small alpaca farm in southeastern Connnecticut that is focused on breeding high quality alpacas for breeding stock and for promoting the "Home Grown" concept of what to do with all that wonderfully soft alpaca fiber. We usually have lots of farm knitted items made from our animals' fiber as well as a good supply of alpaca yarn and roving.
Feel free to browse though our website pages to learn more about our alpacas.
Thanks,
Denise & Bill
THE ALPACA HOEDOWN 2014  ON JULY 26 WAS A HUGE SUCCESS!!!
THANK YOU ALL FOR COMING!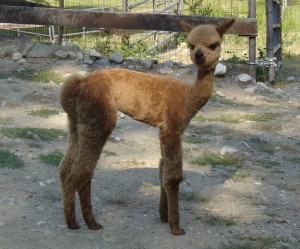 SANDSTORM
I was in the Alpaca Promenade at the Hoedown!
It was such fun!! See you at next year's!